The breakfast cereal production line is based on cereals and processed by cooking or extrusion. Its shape included granular, flaked, or animal shaped.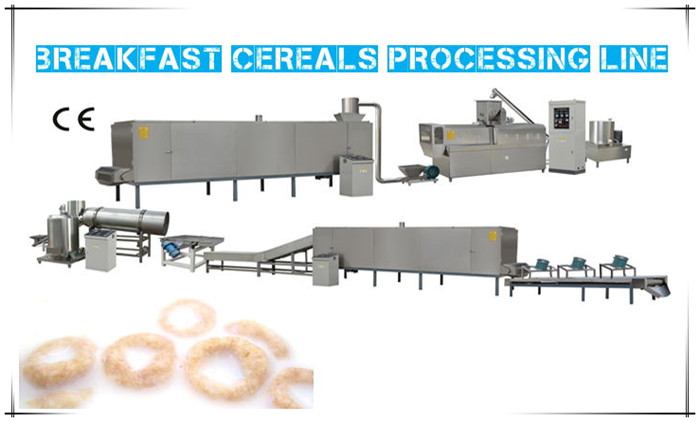 The craft of breakfast cereal process line included six parts:
1. Flour Mixer: According to the different output capacities of process line choose a different model flour mixer.
2. Screw Conveyer: It uses the motor as power and make sure feeding is quick and easy
3. Extruder: According to the different output capacities of the process line choose a different models of extruder.
4. Flavoring Line: There are eight square seasoning machines, cylinders, lifting single drums, double-drum flavoring line, according to the output, and product nature configuration, we also have other machines, like fuel injection, sugar spraying and coating equipment.
5. Multi-layer Oven: The oven is mostly an electric oven. The temperature is adjusted between 0-200 degrees through the control cabinet. The inside is a stainless steel double-layer mesh bag. The baking time can be adjusted according to the speed. There are three, five, and seven-layer stainless steel ovens.
6. Air Conveyer: Use the wind of the fan to transport the raw materials to the oven, and configure different fans according to different products.
Jinan Qunlong Machinery is your best choice, we will provide you with the best quality and cheap products with the best enthusiasm and the best service. Please feel free to contact us.