Dragons Machine offers cereal forming machines for more fragile ingredients such as nutritional bars, granola bars, crispy rice, meal replacements, energy bars, cereal bars and other bars. Our popular cereal forming machines have quickly become top sellers.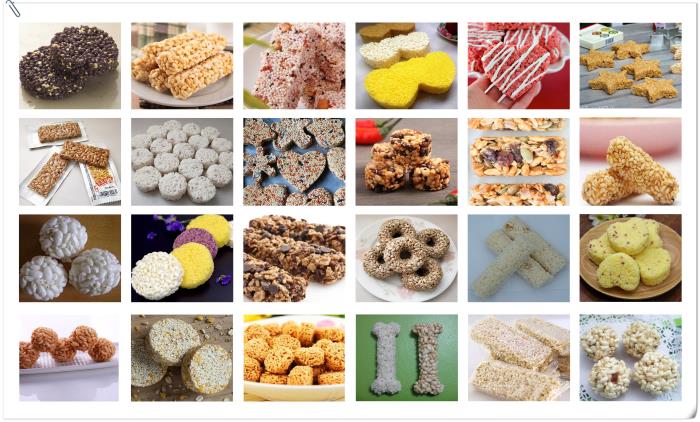 Cereal is a kind of food processed with wheat as raw material. It is processed from ordinary wheat and some things. It was the first breakfast cereal to be industrially produced. The word "flakes" in cereal refers to the fact that it is a grain that comes from being cooked, crushed, and dried, and is usually eaten in milk and juice, or in cereal porridge. Oatmeal is made from oats, and is popular with many people because it is easy and time-saving to make, and some types of cereal can be eaten as long as they are soaked in water.
We use industry best practices to create fully customizable systems with state-of-the-art features.
The stainless steel components and sanitary design allow for complete flushing, while the modular design makes way for additional features.
A variety of shapes and sizes can be achieved by changing molds.
In addition, we offer two shapes (same thickness) of molds to reduce investment.
The material is fed into the rotating unit through a special clamping device and system. The formed product falls on the belt cantilever structure.
The safety device shuts down the machine if the front door is opened. The side doors of the forming machine are made of aluminum or stainless steel optionally.
Controlling the movement of the forming unit is a frequency controlled actuator. The touch panel allows the operator to maintain recipes, production parameters and simplify machine management.
The Benefits
Gets you started with delicious recipe ideas for granola bars.
Fast and easy binder production.
Automatic mixing and dosing.
Flexible product size - bar size can be varied.
Modern control and recipe management via touch panel.
Variable and production-friendly design.
Are you interested in learning more about steel coils for sale and how they can benefit you? Contact us today to secure an expert consultation!